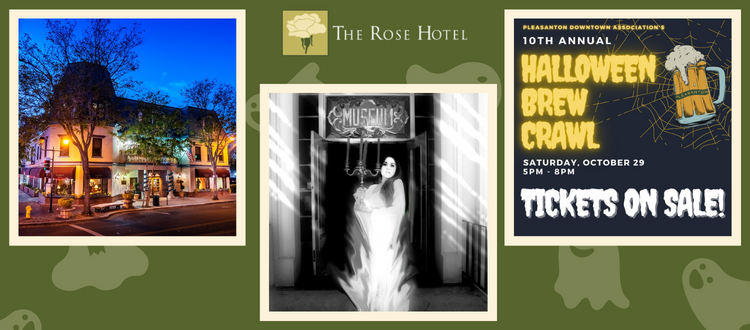 The Rose Hotel is a boo-tiful destination for October
As autumn blankets the Tri-Valley, Pleasanton is one of the best places to spend a weekend or plan for a seasonal escape. With everything from brew crawls and ghost walks to pirates and opera, October is one of the most fun months of the year in the Bay Area, and particularly the Tri Valley.
Our staff at the Rose Hotel is ready and waiting to pamper you and make your visit absolutely boo-tiful! Contact us today to book your room.
Argh, Matey: Visit the Pirates of Emerson Haunted Theme Park
The Pirates of Emerson Haunted Theme Park at the Alameda Fairgrounds opens on Sept. 30 and runs through Halloween night on Oct. 31. This popular annual event promises seafaring scares and more.
The fairgrounds is transformed into a six-acre extravaganza that includes the Dorm of Doom, Hillbilly Holler, Maze Haze, Mystery Mansion, and of course, the Pirates of Emerson. Tickets are timed for this walk-through event and sold online only.
Get Cultured at Livermore Valley Opera
Livermore Valley Opera will feature The Elixir of Love, Gaetano Donizetti's beloved comic opera in October. The music and drama of this opera charms with laughs and memorable music.
It is playing Oct. 1, 2, 8 and 9 at the Bankhead Theater. There also will be a pre-opera talk one hour before each performance and an opening night dinner at Uncle Yu's (separate ticket required). Get more information and tickets online.
Attend a Free Fall Festival with Animals, Music, Crafts & More
Kids of all ages will love the City of Pleasanton's second annual free Fall Festival featuring a presentation by Meadowlark Dairy; a visit with Fiona, the park's life-sized, fiberglass milking cow; a live animal display by local 4-H members; authentic Californios music and dance by The California Fandango Project; and crafts for children.
The festival also includes hands-on activities and presentations from the Adobe's three time periods: Ohlone, Californio and the Meadowlark Dairy. Of special interest are demonstrations such as making apple cider, spear throwing, soap carving, flint-knapping and ice cream churning. Other activities include cow and horse roping, and a reading of the book Rinya, a story of a young Ohlone boy in the mid-1700s, by author John Poole. Guests will be treated to complimentary tacos.
The event takes place 11 a.m. to 3 -p.m. Oct. 10 at Alviso Adobe Community Park, 3465 Old Foothill Road.
Grab Your Tickets Now for Ghost Walk 2022
Do you have tickets yet for the downtown Pleasanton Ghost Walk, hosted by the Museum on Main? If not, don't delay—they tend to disappear faster than a ghost in the presence of a camera crew!
This annual favorite ventures to some of Pleasanton's most "spirited" sites. This year, the spooky stroll will be held in person on Oct. 14-15 and Oct. 21-22, as well as virtually on Oct. 29. Bring all the ghouls and gals to this family-friendly two-hour walk along Main Street!
Shop 'Til You Drop at an Art & Craft Show
For 50 years, the Harvest Festival Original Art & Craft Show — a family-owned and operated shopping experience — has been touring major markets, bringing a huge variety of handmade arts and crafts, wall art, fine and fashion jewelry, metalwork, wood art, toys, ornaments and much more. Stock up on your holiday gifts here and don't be afraid to spoil yourself while you're at it! The show runs Oct. 28-30 at the Alameda County Fairgrounds.
Belly Up to the Halloween Brew Crawl Oct. 30
Downtown Pleasanton will host the 10th annual Halloween Brew Crawl 5-8 p.m. Saturday, Oct. 30, starting at the Museum on Main, 603 Main St. Don a costume and join the party, which is right outside The Rose Hotel at over 25 downtown locations within walking distance. Sip on craft brews and ciders while nibbling tasty bites as you enjoy the best of our local businesses.
Get tickets online and see the full list of venues on the Pleasanton Downtown website. Ticket includes a tasting at participating locations and a commemorative glass. Must be 21 and over; ID required.
Reach us by emailing info@RoseHotel.net, calling (925) 846-8802, or stopping by to visit at 807 Main St., Pleasanton, CA 94566. Click here to book your next visit to the Rose Hotel.