Wine, Whisky, Cookouts & Comedy: September is Spectacular in the Tri-Valley!
There are so many reasons to extend your summer into September and take a trip to the Tri-Valley with a stay at the luxurious Rose Hotel. Our weather is still warm and inviting, our rooms are cozy and ready for you, and there's a long list of things to do.
Fall is an ideal time for a stroll in Downtown Pleasanton to explore local shops, galleries, restaurants, and other businesses. Also, plenty of magnificent events are coming up, whether your tastes run to Scotch eggs or a slab of ribs; comedy shows or classic rock. Look through the list of events so you can get tickets before you arrive. We can't wait to see you!
Labor Day in the Vineyards
Livermore's wine region is the place to be over the holiday weekend, with some wineries hosting special events such as brunch or bands. There's nothing quite like relaxing on a patio in the vineyards during harvest season sipping a superb glass of vino.
Plan your itinerary using the Livermore Valley Wine Country website and ask our staff for recommendations as well. The Rose Hotel makes a perfect home base for your wine adventures!
"Forkful" — Downtown's Most Delicious Event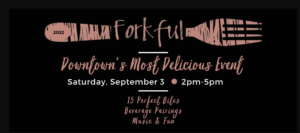 Downtown Pleasanton is packed with many excellent eateries, but usually, you can only try a few at most on a visit here. Enter Forkful, a delightful culinary stroll from 2–5 p.m. Sept. 3 featuring a perfect bite of food with beverage pairings from 15 restaurants. Each bite highlights what the restaurant does best.
Main Street will be closed to traffic during the event, which will include a photo booth, live music, street artists and more. At check-in at the Museum on Main, guests will get a commemorative fork and a program with a list of locations and dishes. Tickets are online for $60.
Scottish Highland Gathering and Games
Back in full swing this year is the 156th anniversary of the Scottish Highland Gathering and Games on Labor Day weekend Sept. 3-4 at the Alameda County Fairgrounds.
Enjoy a broad array of Scottish culture, including whisky tasting, country music and Irish dancing, Celtic heritage stages, folk singers, gathering of the clans, Highland dancing, living history, piping and drumming, Scottish vendors, and opening and closing ceremonies. Feats of strength and ability include the traditional Scottish hammer throwing, putting the stone, weight for height and distance, and sheaf and caber tossing events.
Visit the website for specifics, including performance times, locations, and tickets.
California Soul-Food Cookout and Festival
This old-fashioned cookout on Sept. 17-18 at the Alameda County Fairgrounds will feature some of the best food trucks you'll find anywhere along with R&B and gospel music, NFL stars, vendors and more.
The California Soul-Food Cookout and Festival is hosted by celebrity Chef Milly, as seen on Hell's Kitchen. Ticket options include general admission, concert tables and more.
Capitol Comedy: Two Cheers for Democracy
Whether you lean right or lean left, you'll double over at the jokes in this show by a talented troupe of sketch performers, singers, and impressionists. Capitol Comedy uses a winning formula of musical comedy, multimedia animation and political satire to engage audiences in entertainment that is hilarious, insightful and non-partisan. Catch the show at 8 p.m. Sept. 16 at the Bankhead Theater in Livermore.
Other acts coming to the Bankhead include Grammy-winning blues artist Charlie Musselwhite, the Brubeck Brothers Quartet, the San Francisco Comedy Competition, and Jefferson Starship featuring original member David Freiberg. Be sure to plan ahead and get tickets online before they sell out!
Tickets On Sale Now for Ghost Walk 2022
Looking ahead, we want to remind our guests to get tickets as soon as you can if you're planning to visit in October. You won't want to miss our city's beloved Ghost Walk, one of our best-attended events, being held this year in person on Oct. 14-15 and Oct 21-22, as well as virtually on Oct. 29.
This spooky yet family-friendly two-hour walk along Main Street hosted by the Museum on Main ventures to some of Pleasanton's most "spirited" sites. Tickets are sold online and, like an apparition, they disappear quickly!
No matter what you plan to explore in the Tri-Valley, there's no better place to stay in Pleasanton than The Rose Hotel, with its indulgent guest rooms, exquisite decor, outstanding amenities, unparalleled service, and an ideal location in the heart of the Tri-Valley. We're excited to help you relax and explore the area!
Reach us by emailing info@RoseHotel.net, calling (925) 846-8802, or stopping by to visit at 807 Main St., Pleasanton, CA 94566. Click here to book your next visit to the Rose Hotel.