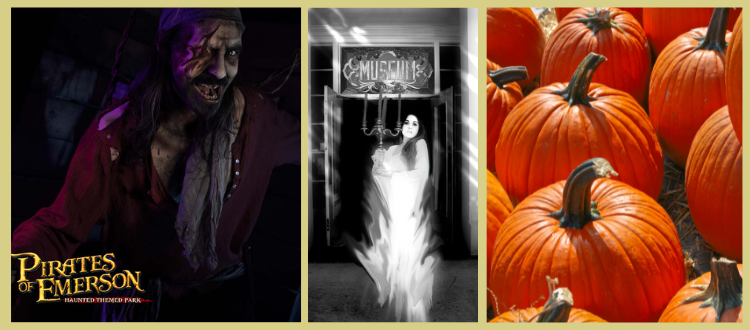 Pirates and pumpkins and ghosts, oh my! Tri-Valley is teeming with spooky October fun
October is one of the best months to visit Pleasanton, thanks to our mild weather and a burst of events in the Tri-Valley Area. Read on for details about a haunted city tour, pirate theme park, pumpkin patches, and more! Get your reservation today at The Rose Hotel so you don't miss any of the fun.
Prepare to be scared at Pirates of Emerson
One of the biggest attractions of the season in northern California is the Pirates of Emerson Haunted Theme Park at the Alameda County Fairgrounds Sept. 30-Oct. 31. This six-acre extravaganza is certain to scare the bejeezus out of you, so be forewarned. This year the walk-through adventure returns after the 2020 drive-through experience last year, so be ready for some up-close and scary moments! Tickets are online only.
See haunted history at the Ghost Walk
If the pirate park sounds too terrifying for you or your kiddos, consider the family-friendly Ghost Walk. This two-hour guided tour of Pleasanton's most haunted sites, hosted by ghost guides from the Museum on Main, is one of our most popular happenings all year.
It is being held in person Oct. 15-16 and Oct. 22-23 and virtually on Oct. 30. In-person tours depart the museum every 30 minutes between 6 p.m. and 8 p.m. on the nights of Ghost Walk. There are two stops that require using stairs. Tickets sell out fast, so go online now to buy in advance!
Spice up your night at a pumpkin patch
Nothing says "autumn" quite like spending an evening at a pumpkin patch or corn maze, and we have a great selection in the Tri-Valley. G&M Farms, Joan's Farm, and Moore Pumpkins and Trees will get you in the mood for all things fall!
Other area events in October:
Don't pass up your chance to have some Halloween and harvest fun! Contact us today to start planning your Bay Area trip.
Reach us by emailing info@RoseHotel.net, calling (925) 846-8802, or stopping by to visit at 807 Main St., Pleasanton, CA 94566. Click here to book your next visit to the Rose Hotel.