As Pleasanton Slowly Navigates Reopening, The Rose Hotel Joins in Supporting Local Business
While our doors have never closed here at The Rose Hotel in Pleasanton, many of our downtown business neighbors haven't been as fortunate. As a member of the Pleasanton Downtown Association, we support local businesses and regularly recommend shopping and dining options to our guests.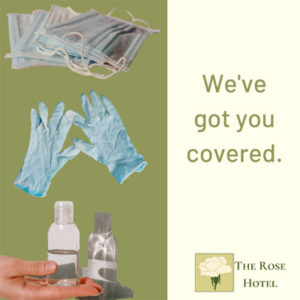 So, if you're planning to visit Pleasanton or the Tri-Valley area in coming weeks, please be aware that state and local safety guidelines are revised often to ensure safety for Alameda County residents. Check in with our city's website to see the latest policy updates for downtown Pleasanton businesses.
Businesses in Pleasanton are opening according to the rules and regulations currently in place by the Alameda County Public Health Department. This carefully monitored reopening plan is dependent upon the rates of infection throughout both the county and the entire Bay Area.
Many downtown Pleasanton shops are open, with precautions. Here are the latest reopening allowances, as of July 20:
Outdoor dining
Wineries and tasting rooms (outdoor only)
Drive-in movie theaters
Outdoor family entertainment centers
Outdoor zoos and museums
Gyms and fitness centers (outdoor only)
Hair salons and barbershops (not yet allowed in Alameda County)
Personal care services, like nail salons, body waxing and tattoo parlors (not yet allowed in Alameda County)
Places of worship (outdoor only)
Offices for non-critical infrastructure sectors (outdoor only)
Shopping malls (outdoor & curbside-pickup only)
Our Weekends on Main are continuing through Aug. 9, pending any changes from the health department. Main Street will be closed from 4 p.m. Friday through 8 p.m. Sunday. Shoppers and visitors to downtown are required to remain 6 feet from others and to wear face masks, except when dining.
Other ways to support our local business community include ordering online, writing online reviews, following their social media channels, and sending words of encouragement.
Our guests are always our primary concern at The Rose Hotel, and we want your stay with us in Pleasanton to be both enjoyable and safe. For guests, we keep a supply of masks, gloves and bottles of hand sanitizer at the front desk. Just ask. We look forward to seeing you soon.
Reach us by emailing info@RoseHotel.net, calling (925) 846-8802, or stopping by to visit at 807 Main St., Pleasanton, CA 94566. Click here to book your next visit to the Rose Hotel.