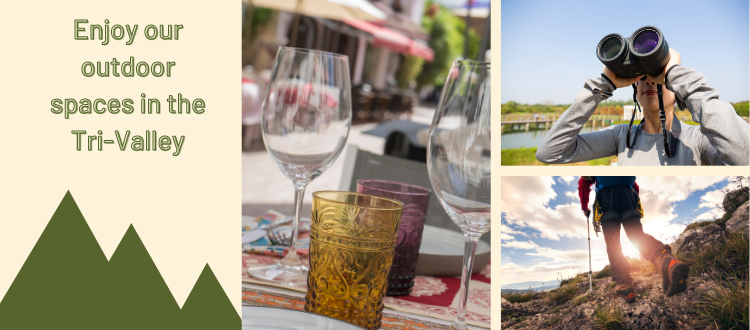 We start the new year remembering John Madden who opened the Rose Hotel with his family in 2001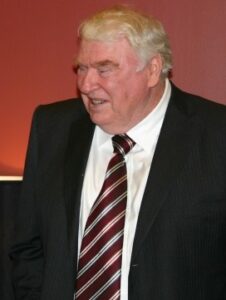 As 2021 came to a close, we lost one of our own here at The Rose Hotel. NFL coach and commentator John Madden died Tuesday, Dec. 28 at age 85. His career as a Hall of Fame, Super Bowl-winning coach, a television commentator for all four major networks, and the gaming entrepreneur who introduced his iconic presence to a younger generation was family to us.
A longtime resident of Pleasanton, John and his family opened The Rose Hotel in December 2001. Guests might stop for a nightcap at the Lobby Bar and find John chatting with friends and neighbors. He was never too busy to talk with fans and others who didn't recognize him or his fame.
We will miss having him pop in to read the morning paper, and our community will miss him even more. We're glad the Rose Hotel is a small part of his legacy in Pleasanton.
Get In All Your Steps in Pleasanton
If you need to reach those step goals in 2022, The Rose Hotel is the best place to start.
January is one of the most glorious months to stay and play in Pleasanton thanks to our moderate temperatures. Especially if you're from an area where you're inundated with snow and ice, it's a pleasure to come experience mild weather and enjoy the outdoors with hiking, biking, bird walks and more.
We also have a lively, walkable downtown full of restaurants and independent shops where you can wander at your leisure. Put away those boots and parkas and just pack a jacket and come for a visit.
Get the Word on the Birds
Sycamore Grove Park in nearby Livermore is a haven for hiking, biking, jogging and bird watching. January is perfect for bird watching, and Jan. 5 is even National Bird Day.
Bring your hiking or running shoes and your binoculars, and check the January issue of the Livermore Area Recreation and Park newsletter for ranger-led programs on a variety of local critters.
One highlight to note: Join Ranger Eric as he hosts slow-paced bird walk at 9 a.m. Jan. 15 for a New Year Bird Walk to view the winter avian residents. One of the highlights, as covered in the January issue of the Livermore Area Recreation and Park newsletter, is the striking bufflehead, one of the smallest ducks in the United States.
You might also see waterfowl such as the Northern Shoveler, American Wigeon and American Coot. RSVP at 925-960-2400 or email: ewhiteside@larpd.org.
Hit the Trails
Pleasanton is home to more than 60 miles of trails and 700-plus acres of open space, so lace up and get moving! Our local website PTownLife has a list of trails with maps for planning purposes. You don't need to be a skilled hiker to enjoy most of these easy yet scenic routes. Just remember to dress in layers and take plenty of water with you, even in the cooler months.
Rent a Bicycle Built for Two
What's more fun than taking a brisk bike ride, with the wind in your hair and the sights and sounds all around? How about riding a tandem bike? Superfly Wheels Bicycle Shop rents tandem bicycles for $25 an hour or $75 a day, including helmets and lock. Book online before you arrive to make sure you can secure a seat for this adventure! Other models including cruisers, full suspension mountain bikes and electric bikes are also available.
Research the RV Lifestyle
Unexpected events the past couple of years have a lot of people considering making unprecedented changes in their lives, including upending everything and living out of a recreational vehicle — or at least buying one to allow for more travel options anyplace that's drivable. The Alameda County Fairgrounds is hosting the 32nd annual RV Super Sale Jan. 22-30, featuring RVs of all sizes and for all budgets.
Enjoy Al Fresco Dining
No need to brush off snow and peel off your layers when dining in Pleasanton in January — just saunter onto one of our many outdoor dining patios. Andy & Yu's serves fine Chinese food and craft cocktails and has a cozy patio with heaters. The Blue Agave Club is a must-try when you're here thanks to its charming ambiance, exceptional regional cuisine, and lip-smacking margaritas. Family-owned Pastas Trattoria dishes up the finest Italian food from pasta to steak to seafood and features patio dining as well as street dining on weekends.
Our Old Town and the greater Tri-Valley area has myriad options for dining as well as other outdoor fun, such as ATV rides, golf, wine tasting and more. Please ask our staff if you're searching for something special!
Reach us by emailing info@RoseHotel.net, calling (925) 846-8802, or stopping by to visit at 807 Main St., Pleasanton, CA 94566. Click here to book your next visit to the Rose Hotel.