Shopping, dining and the great outdoors offer many opportunities to enjoy Pleasanton and the Bay Area
August is a beautiful time of year in Pleasanton, Calif., and The Rose Hotel is an ideal hub for exploring the town and beyond. We are within walking distance of many favorite shops, restaurants and other attractions in downtown Pleasanton, and a short drive from points of interest throughout the Bay Area.
You can shop 'til you drop, eat and drink, get out into nature, learn about history, and much more in and around the area, all while enjoying your stay with us at The Rose Hotel. Here are a few ideas to get you started!
Explore a Carefree, Car-Free Downtown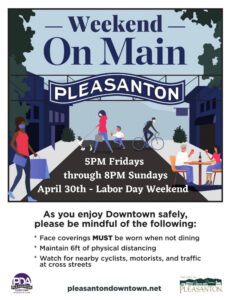 Don't miss out: Stay with us through Labor Day to enjoy Weekends on Main, a carefree, car-free experience every Friday through Sunday evening through Sept. 6, 2021. Enjoy free parking at the hotel and stroll up and down Main Street to explore our dizzying array of shops, cafés, bars, and restaurants. You can also partake of outdoor dining choices in pop-up parklet spaces, thanks to an extension of this program by our City Council. Explore local merchants and discover new treasures, grab a burger and a beer, sip a glass of wine while noshing on artisan pizza … it's a pedestrian paradise here!
Enjoy the Great Outdoors
If you want to escape the hustle and bustle, we recommend Pleasanton Ridge Regional Park, 9,090 acres of pastoral wilderness overlooking Pleasanton and the Livermore Valley. Whether you love to hike, bike, ride horses, or go birding, this bucolic setting will take your breath away. Visit the website for hours, trail maps, rules, and more. Don't forget your sunblock!
Delve into the Past
The Museum on Main at 630 Main St. is a fascinating peek into Pleasanton's past, starting thousands of years ago when Native Californians inhabited the land and continuing into the times of the Spanish missionaries and other European settlers. The special exhibits are always worth a look, so set aside enough time for this local gem. It's open 10 a.m. to 4 p.m. Tuesdays through Saturdays and always free, though donations are gladly accepted.
Appreciate Public Art
Art lovers will want to make a stop at the Granizo Tile Art Mural, three diagonally placed rectangular columns in Civic Park at 100 Main St. These murals, by Guillermo Wagner Granizo, display a pictorial history of Pleasanton and were commissioned to celebrate the town's centennial. It's not only a vibrant tribute of our area's heritage, but is particularly important because it's one of the artist's final pieces.
Pleasanton Farmers' Market
On Saturdays, the place to be is the Pleasanton Farmers' Market, a cornucopia of delights that everyone from locals to travelers can enjoy. If you're not traveling far, bring a few canvas bags and stock up on produce to take home — summertime has a bounty of berries, stone fruits, avocados, leafy greens, and a lot more. But if you need something to stow in your suitcase, you'll surely find a souvenir or two, whether it's a locally made soap or gourmet cookies. Don't be shy about grabbing a few snacks to nibble on in your room, either!
This just scratches the surface of all the fun you can have while staying at The Rose Hotel. We look forward to hosting you and making your trip spectacular!
Reach us by emailing info@RoseHotel.net, calling (925) 846-8802, or stopping by to visit at 807 Main St., Pleasanton, CA 94566. Click here to book your next visit to the Rose Hotel.