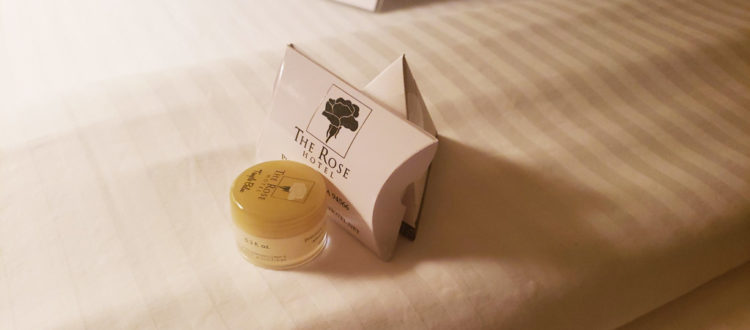 Rose Hotel's lip balm boosts trumpet player;s skills; ends chapped lips
We've always said that a stay at The Rose Hotel here in Pleasanton can change your perspective on life.
Now, thanks to a note from a recent guest's spouse, we may be able to add "life changing" to that sentiment.
O.J. Sheaks is a professional musician, composer and producer who's been working to expand his skills by learning to play the trumpet.
Alas, he's been hindered by "tight lips," a condition that's a combination of dry lips chapped through playing and a lack of moisturizing for said lips.
Not anymore, though. He's married to Christina, a guest who is especially fond of The Rose Hotel. Following her last stay with us, she took note of the lip balm included with our guests' personal amenities.
She noticed the balm seemed to be "healing" her own chapped lips and suggested her musician husband try it
Here's his reaction: "It's been a struggle getting my embouchure in shape. I tried half a dozen lip balms to make high notes possible, with little success. Until…after her recent stay at The Rose, my wife said: 'Try this.' – the Rose Hotel Temple Balm.
"It has increased my range instantly to pro level."
Wow! Thanks, O. J. Sheaks. We believe our guest amenities help make each stay a little more special, and we're delighted to hear our lip balm is furthering your musical career!
Reach us by emailing info@RoseHotel.net, calling (925) 846-8802, or stopping by to visit at 807 Main St., Pleasanton, CA 94566. Click here to book your next visit to the Rose Hotel.