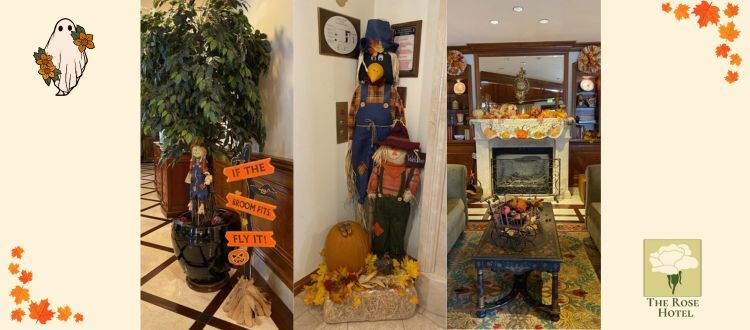 Ghosts, beer, and pumpkins await your October visit to California's Tri-Valley
As October brings the spooky season to California's Tri-Valley, the Rose Hotel brings our visitors accommodations so good, they're scary. Guests enjoy the old-world charm of our intimate, boutique hotel in the style of lodging you'll commonly find in a quaint European village for your stay in Pleasanton.
And while you're here, check out some of the amazing October events we have going on. Whether you're here to celebrate Halloween the small-town way or just taking a break from a busy Bay Area city, the Tri-Valley has something for everyone.
Our friends at the Museum on Main offer their annual Ghost Walk on Oct. 13, 14, and Oct. 20, 21. Virtual screening on Oct. 28. There are a few tickets left, so don't miss out on learning about Pleasanton's resident spirits.
Combining literature and live opera, the Livermore Valley Opera is performing "Of Mice and Men" at the Bankhead Theater. With showtimes at 7:30 p.m. Oct. 7 and Oct. 14 or 2 p.m. Oct. 8 and Oct. 15, this opera is based on John Steinbeck's classic novella about Depression-era farm workers' lives in California.
For those who don't understand Italian, don't worry; this is an English-language performance with English subtitles. Buy tickets, which range from $20 to $105, on the Livermore Valley Arts website, where you can also find tickets available for a pre-show dinner from Uncle Yu's at the Vineyard on Oct. 7 at 4 p.m.
Artwalk in Livermore
Oct. 14 is a big day for the Livermore arts community, as the 22nd annual ArtWalk Livermore also takes place that day between 11 a.m. and 5 p.m. in downtown Livermore. Meet an array of more than 200 local artists who work with a variety of mediums and see what they've created. You can even buy the art for sale and take home a perfect souvenir of your trip to the Tri-Valley.
Live performances of music and cultural arts will also be part of the event, and there are even crafts to keep children entertained. The ArtWalk is free to attend for visitors and no tickets are required.
Wine tasting experience
The Tri-Valley area is known for its wine, making TASTE: The Livermore Valley Wine Experience the perfect opportunity to sample the local offerings. Taking place from Oct. 19 to Oct. 22 at numerous locations in the area, this experience has a variety of events within it celebrating local food and wine.
The events offer food to suit everyone's tastes, from Thai to burgers to seafood and cheese pairings. Of course, the real star of the show is the local wine; in addition to tastings and pairings, other events include educating attendees on the winemaking process, hiking through the vineyard and a falcon presentation. Tickets and information about events within TASTE are available on the website.
Go a little country
On Oct. 21, get ready to put on your cowboy boots and hat for the Boots & Spurs Country Music Festival at the Campos Family Vineyards in Byron. Doors open at 2 p.m., and music runs from 3 to 10 p.m. The event features country artists Josh Melton, Jason Blaine, Toree McGee, Whiskey Hillbillies and Carousel Cowboys.
Food trucks and vendors will also be available onsite to enhance the celebration. Tickets are $45 for general admission or $149 for VIP, which includes dinner and better seating, and are available on Eventbrite. Proceeds benefit the ALS CURE Project.
Trunk or Treats
Naturally, as it is October, we couldn't skip mentioning a Halloween event. The Trunk or Treat at Las Positas College Parking Lot P takes place Oct. 27 from 4 to 6 p.m. for a fun and safe celebration to bring your kids to. With candy, costumes, treats, photos and carnival games, Trunk or Treat makes the perfect Friday night family activity. The event is free to the public, and attendees are encouraged to come in costume. For a list of several local pumpkin festivals and trunk or treat events, the Pleasanton Patch lists upcoming events here.
Costumes and beer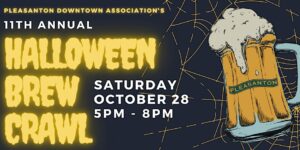 One of Pleasanton's most popular traditions takes place 5-8 p.m. on Oct. 28 —the Halloween Brew Crawl. Don your favorite costume and come out to taste more than 25 brews from local breweries. The evening will be filled with delicious drinks, live music and spooky vibes.
When you're ready to retire from your exciting days of events in the Tri-Valley, the Rose Hotel is ready to receive you with open arms. Comfortable rooms and a calming atmosphere make for the perfect stay. We encourage you to make your reservation soon, as we have limited availability.
Reach us by emailing info@RoseHotel.net, calling (925) 846-8802, or stopping by to visit at 807 Main St., Pleasanton, CA 94566. Click here to book your next visit to the Rose Hotel.