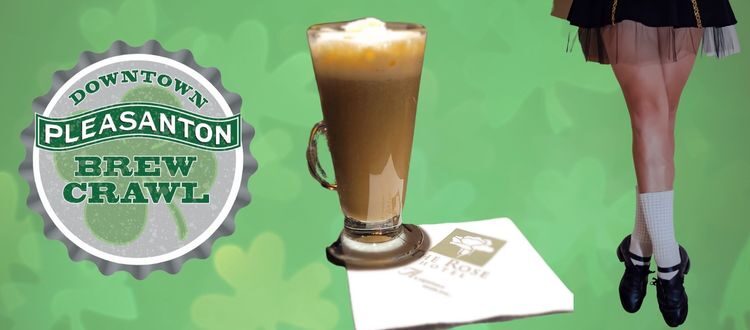 Celebrate St. Patrick's Day in the Tri-Valley with a visit to the Rose Hotel
St. Patrick's Day is a special time of the year to celebrate all things Irish for us here at the Rose Hotel. Our founder and longtime owner until his December 2021 passing, John Madden, was of Irish descent. Our bar in the lobby makes a great Irish coffee, and we strive to create a European-style boutique atmosphere, reminiscent of the Old Country.
While staying with us during March, there are so many wonderful things to do for the St. Patrick's Day holiday week and the rest of the month in Pleasanton and the Tri-Valley.
To start things off on a healthy note, take part in St. Patrick's Day Yoga with Pam Fischer on the evening of March 16 at McGrail Vineyards and Winery. This yoga session includes not only a yoga class, but small bites of food and a tasting of three McGrail wines. St. Patrick's Day-themed clothing is specifically noted as welcome, so wear your best comfortable green and shamrock-themed clothing. Tickets are available online.
For a great way to celebrate St. Patrick's Day on the day itself, March 17, see CaliCeltic perform at Pleasanton's Firehouse Arts Center at 8 p.m. The band describes their music as a blend of Irish and Californian styles, which will be on full display for this special performance. The concert will play host to both original CaliCeltic songs and traditional Irish music. Tickets are available online.
To keep the St. Patrick's Day weekend celebrations going on March 18, check out the Downtown Pleasanton Association's 10th annual St. Patrick's Day Brew Crawl. This beer tasting event features a wide array of food, beers, and ciders from more than 20 locations in downtown Pleasanton, starting with the Museum on Main. To top off the Irish theme, the event will feature live traditional Celtic music. Naturally, guests are encouraged to wear their best green and Irish-themed clothing! Tickets are available on Eventbrite.
For more St. Patrick's Day fun, there's no place to celebrate quite like Dublin … California, that is! Dublin, California (not Ireland) is hosting a St. Patrick's Day Festival for two days on March 18 and 19. For performances, the event will feature three stages with Irish music and dance performances spanning from folk music to Celtic Rock to bagpipes.
Food vendors will have all your favorite classic Irish food available, including corned beef sliders and tri-tip marinated in Guinness beer on soda bread. For shopping, visitors will be able to browse more than 250 booths selling Irish and Celtic artwork, jewelry, clothing and more. A tea cottage will serve Irish tea, shortbread and scones for an authentic teatime experience.
For some more excitement, the festival celebrations will also include a parade and 5K run and walk. Admission is free for all!
When you're ready to come enjoy some much-needed rest and relaxation after your St. Patrick's Day celebrations, the Rose Hotel is here for you. We provide great boutique-style accommodations for your trip to Northern California.
Call us to book your stay today before we fill up for this exciting St. Patrick's Day weekend!
Reach us by emailing info@RoseHotel.net, calling (925) 846-8802, or stopping by to visit at 807 Main St., Pleasanton, CA 94566. Click here to book your next visit to the Rose Hotel.