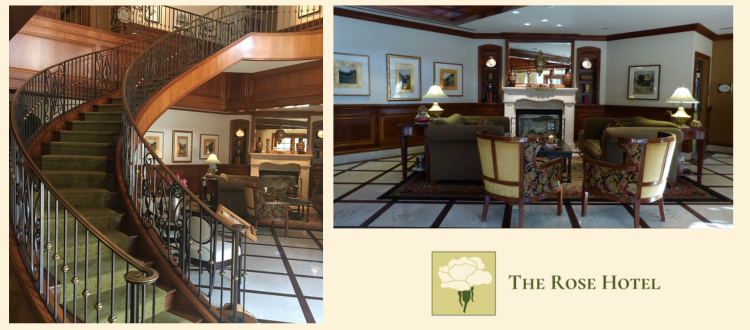 Celebrate May with wine strolls, art shows and craft beer
As spring turns to summer, Pleasanton, Calif., offers plenty of activities and events to take advantage of the beautiful, pleasantly warm atmosphere. Both the weather and the town's charm are here to make your visit the best it can be.
When you're looking for a place to stay, you'll find no better accommodation than Pleasanton's Rose Hotel. We pride ourselves on our European-style ambiance. Our intimate setting offers a chance to escape the bustle of city life and enjoy a slower pace of life that Pleasanton embraces, giving you a respite to enjoy on your vacation to Northern California.
If you're planning to visit Pleasanton in the first week of May, the Pleasanton Downtown Association is bringing back First Weekends on Main. Weekends on Main began a few years ago to give visitors the opportunity to shop and dine downtown in the great outdoors.
Each weekend from May through September, the city closes roads to cars and gives pedestrians a chance to explore Pleasanton's historic downtown on foot. Special events often take place throughout the season as well. May's First Weekend on Main also marks the return of Artists on Main, where you can see a variety of local art on downtown Pleasanton's Main Street, from 11 a.m. to 2 p.m. on May 6.
Later in the day, the Downtown Pleasanton Wine Stroll is on the calendar from 5-8 p.m. The event features more than 15 wines to taste, snacks to try and a special wine glass to take home while you explore downtown Pleasanton. The stroll starts from the Museum on Main. Tickets are available at the event link above.
If beer is more your style than wine, the Livermore Valley Craft Beer Festival takes place the next weekend from 1 to 5 p.m. on May 13. Taking advantage of the excellent weather, the festival will be on the athletic field at Las Positas College near Pleasanton in Livermore. A variety of beer from more than 40 Northern California craft breweries will be available to try, with live music providing great ambience for the event. Caterers and restaurants also will provide food that will be available for purchase. Get your tickets here.
When you're ready to decide your Mother's Day celebration, the Tri-Valley area has you covered. Take a ride on the Livermore Wine Trolley for an unforgettable event on May 14: the Mother's Day Wine, Brunch & Painting Party. This special day starts out with mimosas and brunch while browsing Mother's Day gifts for sale. Next comes a ride to the Concannon Vineyard to paint a pair of beautiful wine glasses that will serve as lasting memories for you and your family.
There are two separate time options: 10:45 a.m. to 1:15 p.m. and 12:30 to 4 p.m. Tickets are available here and include one glass of wine per person and 15% off bottles of wine.
On May 21 at 3 p.m., soothe your ears with Pacific Chamber Orchestra's Refreshing concert. The performance features pieces from Britain celebrating water, romance, and British symphony music. Tickets are available here.
To finish off a month of May excitement, check out the 626 Night Market at the Alameda County Fairgrounds on Memorial Day Weekend. Open from 3 to 11 p.m. on May 26 and 1 to 11 p.m. on May 27 and 28, this vast market is inspired by the social atmosphere of Asian night markets. Explore more than 250 vendors of food, merchandise, and crafts, along with live music, artists, games, and other entertainment. Tickets are available here.
When you're done exploring one of the many exciting events in May, the Rose Hotel is ready to help you recharge and relax in a soothing environment. Our quiet, historic setting is ready to make you feel right at home. Call to book your May stay today!
Reach us by emailing info@RoseHotel.net, calling (925) 846-8802, or stopping by to visit at 807 Main St., Pleasanton, CA 94566. Click here to book your next visit to the Rose Hotel.