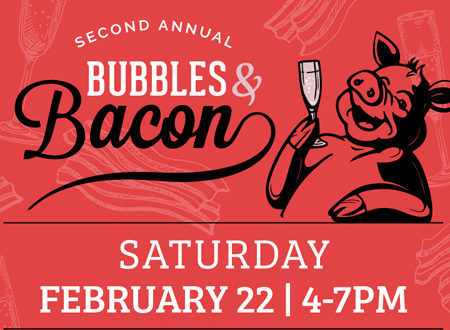 Avoid the crowds and visit Pleasanton during February for wine tours, shopping and more
People may suggest that February isn't the best month to go wine touring in the Tri-Valley area, but we call Balderdash! The slower winter months are some of the best times to visit because the crowds of tourists from across the country have (mostly) disappeared.
The vineyards may have their winter look, but wine tastings and events are still happening nearly every weekend. To learn more about special events at a particular location, the Livermore Winegrowers Association is a great resource. Several wineries have special events on Wine Wednesdays, and multiple have live music and other weekend events.
This weekend is Bike the Vines and Bike the Painted Barrel Trail (11 wineries are participating), so if you like biking and wine, it's the perfect weekend to visit for you.
Right here in Downtown Pleasanton, visitors can craft their own personal wine tours through a dozen or so wine rooms, bars and restaurants with great wine lists. That means, even if you missed Valentine's Weekend here in town, not only would we be delighted to see you here at the Rose Hotel, but we'll be happy to help you design your own wine tasting tour.
Because the Rose Hotel is right in downtown, we also can build in an optimum restaurant list as part of your wine walk. If you're here this weekend, there's a new event sponsored by the Downtown Pleasanton Association, Bubbles and Bacon. The event on Feb. 22 will feature more than a dozen downtown businesses, lots of beverages with bubbles – and bacon-inspired dishes to go along.
For those with outdoor inclinations, a Fly Fishing Show at the Alameda County Fairgrounds kicks off today and runs through the Feb. 22. They'll even teach you how if you're eager to get out and hook your own dinner.
You might enjoy just taking a stroll through town. You're sure to discover all sorts of things happening – from hot wax art demonstrations to an afternoon concert presented by junior artists (art works inspired by music – and the music).
Here at The Rose Hotel, we'll be ready to welcome you back.
There are cookies and fruit available throughout the Rose. Our lobby bar is well stocked and there is a specially selected wine list, too.
More than that, our team knows Pleasanton. We're here to make sure your visit with us meets your needs and expectations in exactly the way you wish. To find more about things to do and places to go in and near Pleasanton, visit the Location tab on our website.
Reach us by emailing info@RoseHotel.net, calling (925) 846-8802, or stopping by to visit at 807 Main St., Pleasanton, CA 94566. Click here to book your next visit to the Rose Hotel.