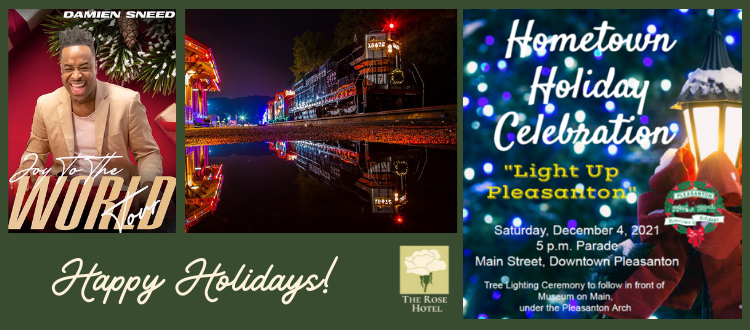 Hometown Holiday, Train of Lights, music of the season bring visitors to Pleasanton and Bay Area in December
It's the holiday season, and that means holiday events throughout the Tri-Valley area! Join our residents and merchants in downtown Pleasanton to enjoy a variety of holiday happenings throughout December. The Pleasanton Hometown Holiday kicks off our local celebration while multiple musical concerts share the holiday spirit. Book your room at The Rose Hotel, and then read on to see all the exciting activities to enjoy in Northern California and the Bay Area.
City of Pleasanton Hometown Holiday Celebration
One of the area's favorite and most beloved traditions brings visitors and former residents back to Pleasant each year to experience this heart-warming holiday event. Everyone gathers along the parade route to watch marching bands, colorful lighted floats, dancers, entertainers and more as the Pleasanton Hometown Holiday celebration officially kicks off the season..
Weather permitting, this will be the first in-person event since 2018. Last year's event was virtual, and the 2019 parade and lighting were cancelled due to poor weather conditions.
We are all looking forward to seeing our streets lined with the happy faces of children anticipating the arrival of a certain Jolly Old Elf and the lighting of the city's signature Christmas tree.
A reminder that Main Street closes at 3:30 p.m. on Dec. 3 as the city prepares for the holiday parade that begins at 5 p.m. Following the parade at about 6:45 p.m., the mayor will light Pleasanton's official Christmas tree signifying the holidays have begun!
Kristi Yamaguchi Holiday Rink at City Center
It's not really the holiday season unless you've gone ice skating (or at least stop by to watch the graceful gliding of other skaters)! The Holiday Rink at City Center in San Ramon is open from noon to 9:30 p.m. rain or shine, every day until Jan. 2.
A short 15-minute drive from The Rose Hotel, you're sure to have a jolly time out on the ice. Choose your 90-minute time block and note that families are encouraged to share the ice at the first session of the day.
Waivers are required to enter the rink and those skating are required to have tickets. Purchasing tickets in advance is highly recommended. Visit City Center Bishop Ranch to learn more.
Niles Canyon Railway Trail of Lights
Take an excursion through Niles Canyon and experience an annual tradition for Bay Area families for more than 10 years. Enjoy a 1.5-hour roundtrip train ride through Niles Canyon filled with cars featuring holiday lights and decorations inside and out!
The Train of Lights offers a rare opportunity for a nighttime view of Niles Canyon. Open now through Dec. 28, this a holiday experience for the whole family.
Dublin's 38th Annual Tree Lighting
Visit a real-life Winter Wonderland with the official tree lighting that kicks off the Christmas season at the Civic Center Plaza in Dublin, about 5 miles away from The Rose Hotel.
The tree lighting ceremony begins at 7 p.m. on Dec. 2. But that's not the only holiday happening in Dublin. The Deck the Homes holiday decorating contest runs from Dec. 13-17 with the deadline for applications on Dec. 10. Winners will be named Dec. 20.
Bankhead Stage in Livermore alive with sounds of the holiday
The Livermore-Amador Symphony brings the sounds of the holiday to life with a joyful seasonal concert on at 8 p.m. Dec. 4 at the Bankhead Stage. The concert features harpist Constance Koo. Tickets: $12.00-$37.00.
The following evening at the Bankhead, welcome Damien Sneed performing gospel, jazz, and classical Christmas favorites. Doors open at 3 p.m. Dec. 5.
Later in December, Survivor Blues with John Mayall and Walter Trout take the stage at the Bankhead. Mayall, a pioneer of blues music and 2021 Grammy Hall of Fame inductee, performs a series a British blues and rock with Trout, also a prolific music artist. Join the two talented performers on Dec. 16 at 7:30 p.m.
Funky & Soulful Christmas
The holiday music cheer continues with Jeff Bordes and Friends: A Soulful Christmas on Dec. 18 at the Firehouse Arts Center. This annual holiday celebration is a fun, soulful twist on classic Christmas melodies. From Frank Sinatra to Ella Fitzgerald, the mood will be full of cheer at this spectacular event.
Nochebuena: Christmas Eve in Mexico
Experience a traditional Mexican Christmas with the acclaimed Ballet Folklorico de Los Angeles and Mariachi Garibaldi as this dynamic duo showcases the traditions and customs celebrated in Mexico during the Christmas season.
This show focuses on the tradition of Nochebuena (Christmas Eve) when families attend midnight Mass before returning home to a late-night holiday feast.
See the show live on Dec. 20 at Bankhead Theater starting at 7:30 pm.
Reach us by emailing info@RoseHotel.net, calling (925) 846-8802, or stopping by to visit at 807 Main St., Pleasanton, CA 94566. Click here to book your next visit to the Rose Hotel.