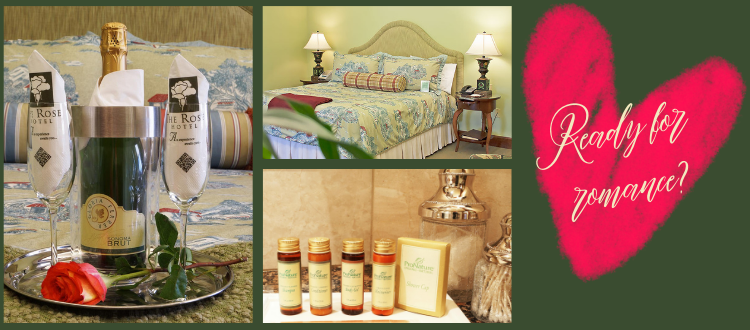 Get in touch with your romantic side with a visit to the Rose Hotel in February
Romance is in the air as February arrives in the Bay Area! We have so many romantic views, restaurants, and places for couples to enjoy themselves in the Tri-Valley. Of course, at the Rose Hotel we encourage a spark of romance all year long with our Romance Package special.
This wonderful special offer features chilled champagne and chocolates, a fresh bouquet of roses and the backdrop of a night's accommodation in our Deluxe King room featuring a jet tub and luxurious organic bath products.
If a night out with your significant other is your idea of a perfectly romantic evening, then the Rose Hotel also has a Night on the Town package featuring again our Deluxe King Room, chilled champagne and instead of flowers, a $50 gift card to a local restaurant for a romantic evening in historic downtown Pleasanton.
Visit here to see all our on-going special offers.
Romantic things to do in the Tri-Valley
Once you're in Pleasanton, there is an abundance of romantic places to visit, from exceptional restaurants for fine dining to picnic areas with astounding views. Some of our favorite downtown restaurants offer candlelit tables for two and menus featuring Italian, Chinese, Mexican and European influences, as well as hardy and traditional steakhouses.
In addition, there are many options for outdoor patio dining and live music.'
Speaking of al fresca dining, the city of Pleasanton and the surrounding Tri-Valley has several parks and trails, perfect for a hike at dusk and sharing a romantic drink while enjoying the beautiful sunset views. In Pleasanton there is Kottinger Park, Pleasanton Ridge Regional Park, and Shadow Cliffs Regional Recreation area.
For culture lovers, our Firehouse Arts and Museum on Main both offer exhibits sure to enthrall art aficionados while it's only a short drive to nearby Livermore Arts, home to the Bankhead Theater and the Bothwell Arts Center.
Taste Tri-Valley Restaurant Week returns
Speaking of great food, the annual Taste Tri-Valley Restaurant Week is scheduled for Feb. 18-27, taking in Presidents Day weekend this year.
Organizers say the event highlights the diverse culinary experiences of our region during the 10 days of the event. There will be special foodie events, unique menu offerings, and exclusive deals to the top restaurants, wineries, and breweries in the Tri-Valley. Participating restaurants are from Pleasanton, Livermore, Dublin, and Danville.
This is a wonderful opportunity to try new places to eat with several participating restaurants within walking distance from The Rose Hotel:
Sabio on Main
Distance from hotel: .3 miles // 6-minute walk
Sabio's is a serves modern Spanish-Californian cuisine and drinks. The restaurant's current menu "Carmellia" will be served until Feb. 25 and then it will shift to showcase the "Baby Blue Eyes" menu to close out Restaurant Week. Sabio on Main is a Michelin Guide California 2021 restaurant and a f-year winner of Wine Spectator Award Wine List.
Locanda Amalfi
Distance from hotel: .4 miles // 8-minute walk
Locanda Amalfi specializes in Neapolitan thin-crust pizza, pasta and small bites. Bay Area restaurateur Enzo Rosana, a native of Italy who grew up near Naples, partnered with two other Italians to create Locanda Amalfi. Francesco Esposito is from Naples and Emanuele Ghirani is from Florence. The trio have blended their native heritage and expertise into a new Italian experience at Locanda Amalfi.
Zachary's Pizza
Distance from hotel: .4 miles // 8-minute walk
A Bay area tradition since 1983, Zachary's Pizza is known for Chicago-style stuffed and traditional thin-crust pizza and has earned more than 225 "Best Pizza" awards. Zachary's frequently tops TripAdvisor's list for best pizzas in the Bay Area, and the company is recognized for its community service through its fund-raising partnerships.
Bottle Taps
Distance from hotel: 1.3 miles // 24-minute walk (or 5 minutes by car/taxi)
Although a further walk (or just a short drive), Bottle Taps is worth it for beer-loving visitors to Pleasanton. This restaurant features more than 30 beers on tap and selection totaling more than 250 different beers, wines, ciders, meads, kombuchas, and nonalcoholic beverage choices. Pair your favorite drink with food from their election section. Bottle Taps is locally owned and operated by two Pleasanton natives.
Other February happenings
The Rose Hotel is on Main Street in Downtown Pleasanton, and that puts us in middle of a unique shopping and dining experiences. It also means we are quite near the Alameda County Fairgrounds where a variety of regional events happen each month. The big events coming in February 2022 are a home show and a fishing show.
The 36th Annual Alameda County Spring Home show is noon to 6 p.m. on Feb. 18. The show offers trends for builders, remodelers, and those of you ready to redecorate. From kitchen and bath accessories to floors and windows, this show offers a little something for everyone's dream home.
The Fly Fishing Show takes place Feb. 25-27 at the fairgrounds with doors opening 10 a.m. on the 25th and 9 a.m. on the 26th and 27th. Visitors to the event can meet celebrity fishers, take part in seminars and classes, and get the latest on reels, lures and more.
Reach us by emailing info@RoseHotel.net, calling (925) 846-8802, or stopping by to visit at 807 Main St., Pleasanton, CA 94566. Click here to book your next visit to the Rose Hotel.